OK! i LOVE the architecture here.. its the norman architecture.. very fairy-tale-like!!

i like the unique grandfather's clock in the foreground! it is in my dreamhomelist!!yes, i m compiling a list of things i want in my dream home.

Gosh!! fashion police please stop this lady!! she is wearing an orange trench, orange bag, orange stockings, and orange with silver shoes!!

very nice piece.. its in my dreamhouselist

interesting publicity!! reminds me of teletubbies! the guys walk ard with tellys on their back.. by a telcom company here


AND he is cute..haha

and the building here are so so different and so so nice..but i still love my country!

oh its halloween today, and the candy shops have the most interesting window displays!!

very ke ai!


a guy with a spider on his head, and another with a weird hat is not a surprise on hallewen!

Hmmm.. i think i might considering growing lotsa flowers outside my house next time.. (do they allow this in HDBs??)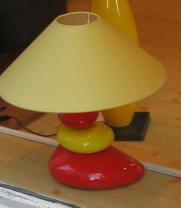 a very interesting lamp! i love the cheery colours!! so its in the list!